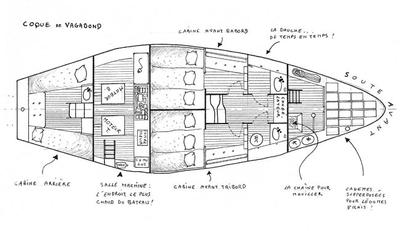 Cabins of Vagabond, drawings G. Caroff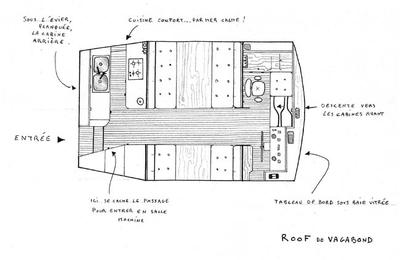 Roof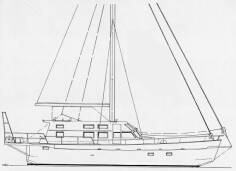 Version 2000, totally refit
Sketches of Gilbert Caroff
Vagabond, a sailing vessel for your expeditions!
Vagabond is an expedition yacht designed for sailing in ice. Since year 2000, her captain Eric Brossier prepared it as a unique logistic support, a floating and moving base camp for scientists, sportsmen, or artists fond of polar regions.
Architect: Gilbert Caroff
Builders : BRUMENT / MARINE ATLANTIQUE
Main Dimensions
Total length: 15.30 m (47 ft)
Breadth: 4.20 m (4 feet)
Draught 1,2 m (4 feet)
Full displacement: 25 to 32 tonnes
Rigging: 3 sails (mainsail, winding genoa and forestaysail)
Total sailsurface: 130 m2
Propulsion: 2 x 62 hp
2 propellers, shielded
Diesel Tanks : 4500 litres
Range: 1 wintering or 5.000 nautic miles
Dinghy 6 hp
Generator 10 KWA
Power supply: 5 batteries 143A, 2 alternators, charger 220V, wind generator 12V, solar pannels
Special E36 steel hull
Stem reinforced with 10 mm stainless steel plate
Teak deck
Aluminium roof
Capacity: 10 people including 2 crew members (16 people maximum if less than 5 n.m. from shelter)
Equipement
Sailing
Central navigation Topline NKE (deoth, loch speedo, temperatures, wind)
2 GPS (fixed and portable)
Weather forecast software
Radar, Sonar (H&V sweeps)
Autopilot and hydrolic steering
Electronic charts
Progress
Poles to push ice
Crow's nest at 13 m high
Ice axes and ice screws
Security
Emergency beacon COSPAS - SARSAT
8 survival suits
Liferaft for 10 people
Communication
VHF radios (1 fixed, 3 portables)
SSB radio
Satellite phone (& Internet kit)
INMARSAT Standard C (E-mail, telex, fax)
Comfort
Central heating system (diesel stand alone heater) and diesel stove
Isolation, 40 mm of polyurethane foam
Fresh water tank: 800 liters
Electric fridge, deepfreezer and oven
Books, CD, DVD, VHS, guitar...