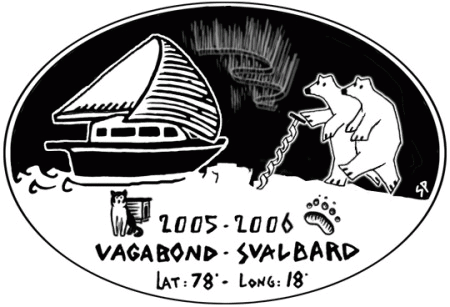 VAGABOND is at Spitsbergen, where France and Eric, for the second complete winter, are supporting logistics for some international scientific programs, in collaboration with the French Polar Institute IPEV...
See the other winterings : 2004-2005, 2006-2008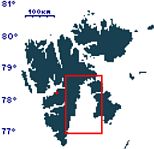 See the wintering location, and the map of Storfjord .
Read the wintering Logbook or the Vagabond's Newsletter (archives since 2001...)
Vagabond, logistic support for the European project DAMOCLES
Press Release (French/English).
Abstract for the research programme, by Jean-Claude Gascard:
Observations taken in Storfjorden, the largest Fjord located East of Spistbergen, have revealed the presence of very salty, cold and dense sea waters which appear as bottom layers, several tens of meters thick. These water masse result from brines production in Arctic Fjords related to the separation between sea salt and water during freezing and sea-ice formation. The annual production of brines enriched shelf waters in Storfjorden is very variable as well as the TS characteristics of these dense, cold and salty water masses. Salinities can reach extreme values up to 35.8 psu. This annual production has been estimated at about 1000 km3 from direct measurements taken out of Storfjorden in 1991/1992 and at about 3000 km3 in 1997/1998 based on sea-ice remote sensing observations and the prevailing meteorological conditions in Storfjorden. Thes estimations correspond to a volume 4 times larger than the volume of Storfjorden, indicating Storfjorden being ventilated in about one month or equivalently 4 times during the winter. The 3000 km3 of brines enriched shelf waters are related to a formation of 40 km3 of sea-ice in Storfjorden indicating the dilution factors very dependent on the depth of the water column where the brines have been formed. It is essential to establish precisely the total amount of brines produced in the Arctic Ocean and the mixing processes leading to brines enriched shelf waters since this represents a very important element for the hydrodynamic and thermodynamic regime of the Arctic Ocean proper. This is the reason we propose a dedicated study of brines formation, dilution and circulation in Storfjorden characterised by a remarkable latent heat polynias largely responsible for the hyper productivity of Storfjorden in producing vast quantities of arctic brines in relation to the sea-ice and meteorological conditions. The 2006 experimental program in Storfjorden will be based on observations of the atmosphere ( wind, air pressure and temperature) from a weather station installed in Storfjorden, snow (thermal conductivity and heat fluxes), sea-ice (daily concentration at 3 km resolution and sea-ice thickness) and ocean (temperature and salinity 3D distribution and temporal evolution, tracers Oxygen 18 and Iodine 129) and microstructure studies of the ocean mixed layer subjected to brines formation. This program will be undertaken in cooperation with scientists from Norway (UNIS at Svalbard and Bergen University), from Germany (AWI and Bremen University) and from UK (University College London).