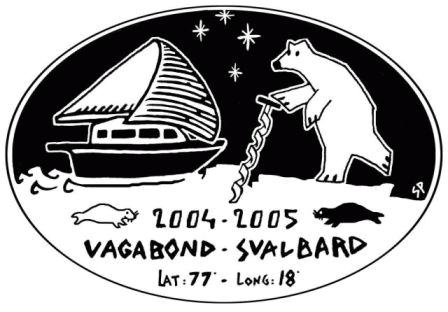 VAGABOND is at Spitsbergen, where France and Eric, during winter 2004 - 2005, are supporting logistics for some international scientific programs, in collaboration with the French Polar Institute IPEV...
See the next winterings : 2005-2006, 2006-2008
See the wintering location, and the map of Storfjord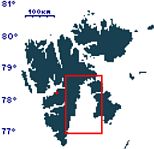 Read the wintering Logbook or the Vagabond's Newsletter (archives since 2001...)
Letter from Ny-Alesund, 1st September 2004,
Vagabond is moored at Ny-Alesund little harbour (79° North - 12° East), where is located the French scientific base (French Polar Institute IPEV), in Spitsbergen. France Pinczon du Sel and myself are getting ready for wintering and for the scientific projects which will take place in Storfjord, South-East of the Norwegian archipelago, until summer 2005.
3 international programmes are planned :
a study of the formation of sea-ice, especially brines (very salty water) and their influence on Arctic Ocean currents;
a study of the small deformations of the sea-ice, which will be compared to satellite data, in order to find scaling laws allowing to better understand the role of sea-ice on the global climate;
a study of the sea salt transfer to the snow, which influence is important on polar atmospheric chemistry.
Before telling you more about it, thanks to the scientific crews that will be coming on board during the winter, you can read here (in French...) about our journey from Brittany to Ny-Alesund. The fanfare for our departure from Douarnenez, the very amazing crew, the welcoming at Amsterdam Maritime Museum, at the Lofoten Cod Museum, and at the Tromso Polar Museum, the quest of Maelstrom with Erik Orsenna, discovering the glaciers in Spitsbergen...
News and pictures are regularly added online, on this website.
A bientôt !
Eric Brossier